Fashion is a Canadian fashion magazine published by St. Joseph Media. Established in 1977, it is currently based in Toronto (with satellite offices in Vancouver, Calgary and Montreal), publishes 10 issues a year and has a total readership of 1.85 million (PMB Oct 2010).
The magazine covers international, national and local fashion and beauty trends and news. It aims to reach affluent, style-conscious urban women. Hailee appeared in Fashion in 2013 and 2016.
2013
On her to-do list was getting a dress that she intended to wear to her 16th birthday party, an invite-only bash that was thrown in her honour at the Rolling Stones Restaurant on Hollywood Boulevard. The Louis Vuitton look she went with may have ended up getting major posts around the net—and a few snaps in People magazine—but the day she met up with me, there was another designer Steinfeld was thinking about.
"I love Prabal Gurung, so he's always an option," she says, "I remember sitting in the front row to watch his show at fashion week and the music came on and all these gorgeous clothes had such a message. All these strong-willed women—holding their own—walking down his runway looked as gorgeous as ever. I walked away feeling like that's what I'd feel like when I would put his clothes on"
Gallery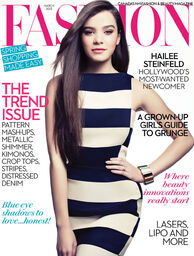 2016
Gallery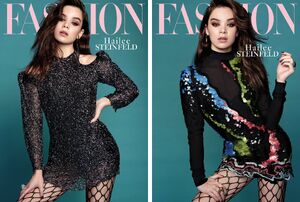 Ad blocker interference detected!
Wikia is a free-to-use site that makes money from advertising. We have a modified experience for viewers using ad blockers

Wikia is not accessible if you've made further modifications. Remove the custom ad blocker rule(s) and the page will load as expected.