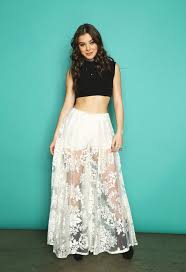 She was born in the city of Los Angeles, California and this reflects in her personality as well.
Her zodiac sign is Sagittarius she has got almost all good qualities of the sign.
She was very much appreciated by her cousin "True O'Brien" (a model/actress), and under her influence she chose this path.
Her father is a Jewish and her mother is of half Northern European and the rest of Filipino and African-American descent.
Hailee is very proud of being multi-racial. She says it's one of the things that connects her to so many people.
Hailee was just 8 when she got into this world, started with short films and got huge fame as a child star.
Since her early age she has been regarded with an unusual "tall" height and that makes her look perfect in the cinema screens.
Hailee has proved her metal in the field of acting and singing, now she is aiming to work on Broadway as well as a director, but her fans have to wait for a little while.
Alessia Cara is one of her favorite artist.
Her favorite song is Stitches, amongst others.
Her favorite movie is the Social Network.
She loves cereal.
She love her Pitch Perfect 2 co-stars, especially Rebel Wilson and Esther Dean.
She is very supportive of her fans.
She called her fans "Steinfans".
She would LOVE to go to on tour with Bruno Mars, Justin Timberlake, as well as headline her own world tour.
Her favorite lyric from Love Myself is "I know how to scream my own name".
She's happiest acting and singing at the same time.