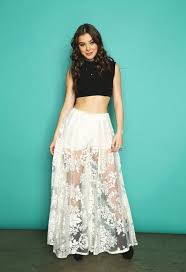 She was born in the city of Los Angeles, California and this reflects in her personality as well.
Her zodiac sign is Sagittarius she has got almost all good qualities of the sign.
She was very much appreciated by her cousin "True O'Brien" (a model), and under her influence she chose this path.
Her father is a Jewish and her mother has English descent and after all she has got all the qualities in her D.N.A
Hailee was just 8 when she got into this world, started with short films and got huge fame as a child star.
Since her early age she has been regarded with an unusual "tall" height and that makes her look perfect in the cinema screens.
Hailee has proved her metal in the field of acting and now she is aiming to work as a director, but her fans have to wait for a little while.
Alessia Cara is one of her favorite artist.
Her favorite song is Stitches.
Her favorite movie is Straight Outta Compton.
Her favorite moment is when she was part of Taylor Swift's Bad Blood.
She loves cereals so much.
She love her Pitch Perfect 2 co-star Anna Camp.
She is very supportive of her fans.
She called her fans "Steinfans"
She would LOVE to go to on tour with Bruno Mars, Justin Timberlake and Taylor Swift.
She's all about her girl Demi Lovato.
Her favorite lyric from Love Myself is "I know how to scream my own name".
She loves herself.
Ad blocker interference detected!
Wikia is a free-to-use site that makes money from advertising. We have a modified experience for viewers using ad blockers

Wikia is not accessible if you've made further modifications. Remove the custom ad blocker rule(s) and the page will load as expected.