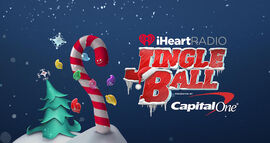 Jingle Ball was presented by Capital One. It featutres Meghan Trainor, The Chainsmokers, Fifth Harmony, Backstreet Boys, Alessia Cara, Charlie Puth, Daya, Lukas Graham and Hailee Steinfeld. Hailee Steinfeld performed some of her songs in 2015 and 2016.

2015
Hailee performed You're Such A and Love Myself.
2016
Hailee performed Starving and Love Myself.
Ad blocker interference detected!
Wikia is a free-to-use site that makes money from advertising. We have a modified experience for viewers using ad blockers

Wikia is not accessible if you've made further modifications. Remove the custom ad blocker rule(s) and the page will load as expected.